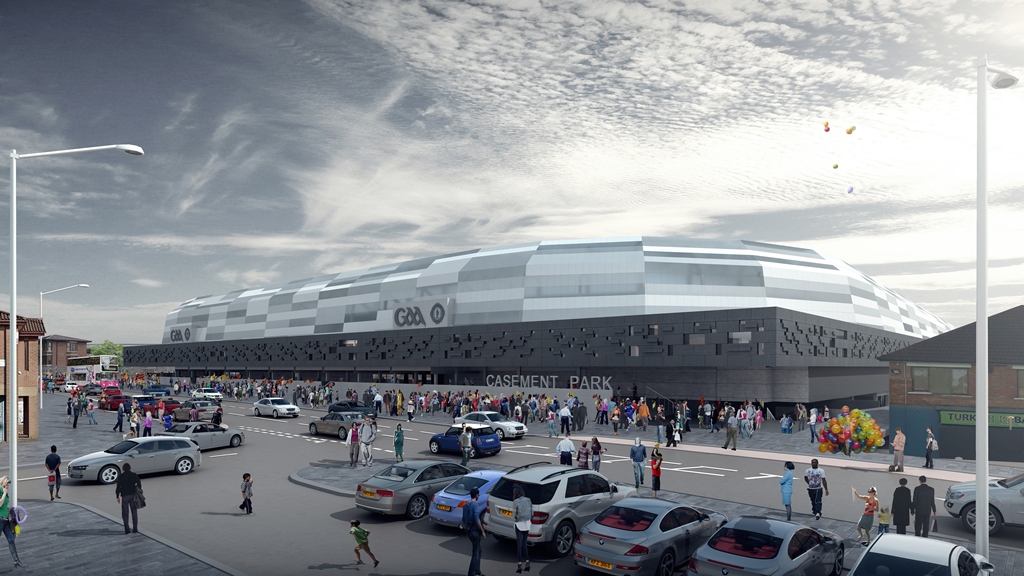 Ulster GAA today unveiled its proposed designs for an exciting new provincial stadium at Casement Park to members of the public at West Belfast's Conway Mill and outlined its process to seek the views of all interested parties.

The new scheme presented by Ulster GAA and developed by global award winning architects Populous plans to transform Casement Park with an enhanced atmosphere and iconic new stadium bowl.   The mixed use facility proposes a range of resources to advance the economic, cultural and heritage opportunities for the local community.
The announcement follows an extensive Stage One community consultation process with 91% supportive of the project.  The design, which was informed and shaped by feedback received from the local community and wider stakeholders during Stage One, has a proposed capacity of 34,500 inclusive of 8,500 (approx.) standing terracing.   The new height, scale and capacity are all reduced from the previous design, with the stadium envelope also being further restricted.
Uniquely to Belfast, the complete bowl design will ensure that terracing supporters have the same level of protection from the weather and concourse facilities as all other spectators within the ground.  The proposal also sets out plans for sustainable travel options with dedicated traffic and travel operations including supporter coach travel and off-site park and ride transportation.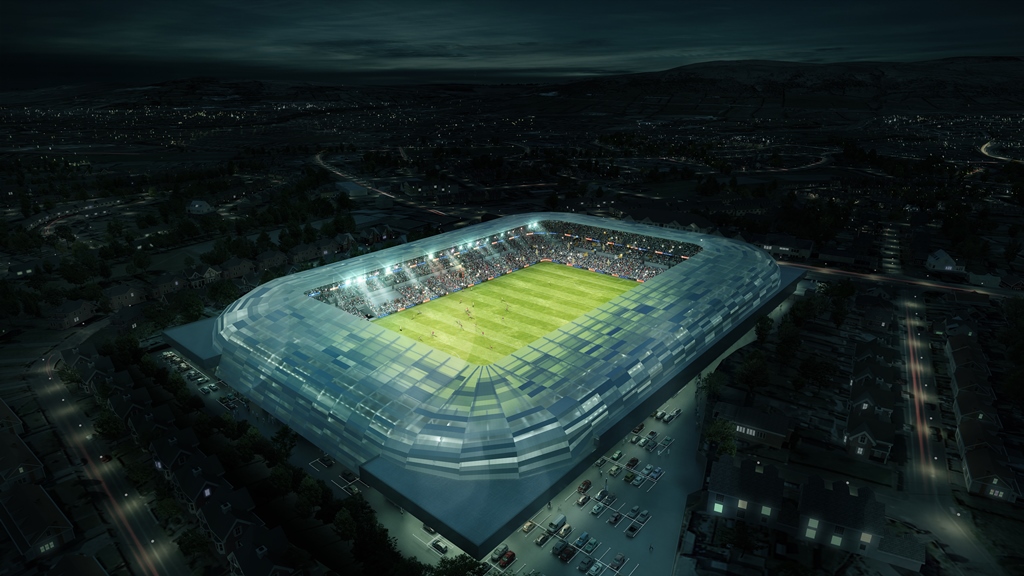 Speaking at the design unveiling, Tom Daly, Chairman of the Casement Park Project Board commented:
'Today's design unveiling demonstrates Ulster GAA's willingness to engage, listen and evolve our plans for a new Casement Park stadium.  In the new scheme we have reduced the scale, mass, size and capacity of the stadium whilst at the same time creating a first class atmosphere for GAA supporters through the bowl design and up-close spectator experience. 
'We are also committed to delivering a travel culture change within the GAA with a sustainable transport strategy inclusive of coach travel, park and ride and integrated travel choices with ticket sales.  This strategy is good for ease of access to and from the stadium, is cognisant of the needs and views of the local community and is good for the wider environment.
'The emerging design will be up to code and the Casement Park project team continues to work closely and positively with the Safety Technical Group (STG).  We are looking forward to hearing from GAA supporters, the local community and all stakeholders on their thoughts on the design and community facilities throughout the consultation process.'
Michael Hasson, Ulster GAA President, added:
'GAA members, supporters as well as people across the local community are looking forward to an exciting new beginning for Antrim and a Provincial Stadium for Ulster.  We want to create a positive sporting legacy and iconic stadium that will be a beacon to inspire young GAA players throughout, West Belfast, Antrim and across Ulster.
The proposed design includes:
·         Conference and banqueting facilities
·         Handball courts
·         Community space, including café
·         Exhibition space / cultural centre
·         Replacement social club
·         Car parking available for use on non-match days
·         Enhanced public realm to Andersonstown Road
·         Dedicated traffic and travel operations including supporter coach travel and dedicated off-site park and ride transportation
·         The ability to positively contribute to the local economy of West Belfast and further afield
Rory Miskelly, Casement Park Project Director added:
'The Casement Park project team are committed to providing long term socio-economic benefits to West Belfast, Belfast and beyond.  There is great potential for local people and the wider community to benefit from job opportunities that will be created both during the construction of the stadium and in its day-to-day operation.  The design reflects our vision to develop a stadium that supports, enhances and enriches the cultural and heritage opportunities for the local community and I would urge everyone with an interest in the project to go see the new design and let their voice be heard.'
Collie Donnelly, Chairman of Antrim County Board, commenting on the opportunity for the development of GAA said:
'There is enormous potential for the development and growth of all GAA codes throughout our County.  Antrim has one of the largest GAA playing populations in Ireland, it has proud clubs with cherished histories and our members are passionate about our sport and committed to ensuring it thrives.  As someone who grew up on the doorstep of Casement Park and had the honour to play there with both Club and County, I believe it will play an integral role in boosting and developing Gaelic Games throughout Antrim.'
Ulster GAA will be holding a series of Stage Two public events where members of the general public will be able to see the proposed designs for themselves at the Lagan Valley Island Centre (25th Oct) Glenn Community Complex (26th Oct) and Andersonstown Leisure Centre (27th Oct). The events will take place from 1pm to 8pm.  A drop in office will be located within the vicinity of Casement Park following the exhibition events to provide the opportunity for engagement on the project at designated times. 
Feedback forms will also be available throughout the consultation period at unmanned stands located in Colin Glen Forest Park Centre, O'Neills Shop, Kennedy Centre, An Cultúrlann, Conway Mill and Andersonstown Leisure Centre and online here.