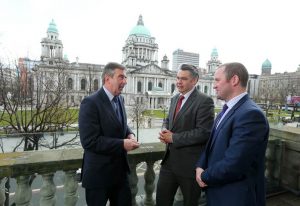 Ulster GAA has today announced the beginning of an extensive consultation process for the Casement Park Project.
The Casement Park team want to provide opportunities for everyone to make their views known and are launching a calendar of activity including a series of events across Belfast and throughout Ulster.
In addition, a host of other actives both online and across social media will commence which aim to keep everyone informed of the projects progress. A number of manned and unmanned displays will also be organised in West Belfast to allow people to respond.
A series of events will be held in West Belfast at Conway Mill, Andersonstown Leisure centre and Glen Community Complex to hear the views of interested parties and to share their vision for a redeveloped Casement Park, the facilities and all the associated benefits. These events will be on three dates: Tuesday 24 May, Wednesday, 25 May & Thursday 26 May between 1pm and 8pm. enabling people to make their views known. This activity is the first stage of the community consultation process. Stage 2 will then take place in late Summer/Autumn 2016 when detailed plans will be available for review along with the findings of the Environmental Impact Assessment.
Tom Daly, Chairman of the Casement Park Project Board commented:
"Today marks the beginning of the consultation process and we are looking forward to hearing the views of anyone with an interest in the Project. This will be a facility everyone in West Belfast, County Antrim, Ulster and throughout Ireland will be immensely proud of and a stadium that the next generation of young people can aspire to play in. The start of the community consultation is an important step as we look forward to a new and modern stadium at Casement Park. The wide reaching consultation will last for 20 weeks and we want to accrue feedback throughout this period. These responses will then help inform the design of the new Casement Park Stadium during Stage 1. Once the design has progressed Stage 2 can begin and we will seek more feedback in Late Summer/Autumn 2016."
The consultation will go above and beyond the 12 week process required extending over a 20 week period and will welcome views across all elements of the new Provincial Stadium form the local community, interest groups, the wider GAA and other relevant groups across business, arts, social and sports.
Rory Miskelly, Project Director commented "Casement Park promises to be another landmark facility in the heart of Belfast and one which we are all looking forward to. The project remains a Programme for Government commitment and a key part of the Regional stadium programme. There is a clear roadmap for the project in place and the consultation forms a key part of this."
President of the Ulster Council Michael Hasson added " I want to welcome the progress made on the project and thank Tom Daly and the team for their work. Since opening in 1953 Casement Park has played a significant role in the development, promotion and profile of Gaelic Games in Belfast, Antrim & across Ulster. The GAA, as a proud community organisation, embedded in communities and open to everyone thrives on community spirit and the Casement Park project represents for us an opportunity to invest in a community which we are proud to be a part of. In 2016 we are looking forward to a new era and a new modern stadium; already the home to Antrim GAA we are excited at the prospect of Casement also becoming the home of Ulster GAA."
Photo caption: Tom Daly, Chairman of the Casement Park Project Board, Rory Miskelly, Project Director.Stephen McGeehan, Project Sponsor.